Rabbi Bertram Korn: Consider the Sources of Minister Farrakhan's Research
Who is Rabbi Bertram Korn? Why is he important?
Rabbi Bertram Korn is important because he is a cited source within the three-volume work published by Minister Farrakhan entitled: The Secret Relationship Between Blacks and Jews. And in recent months several high-profile critics like Joy Behar, Angela Rye and Meghan McCain have criticized our beloved Minister by attacking his claims that there was heavy Jewish involvement in the enslavement of Black people in America. None of these critics are scholars.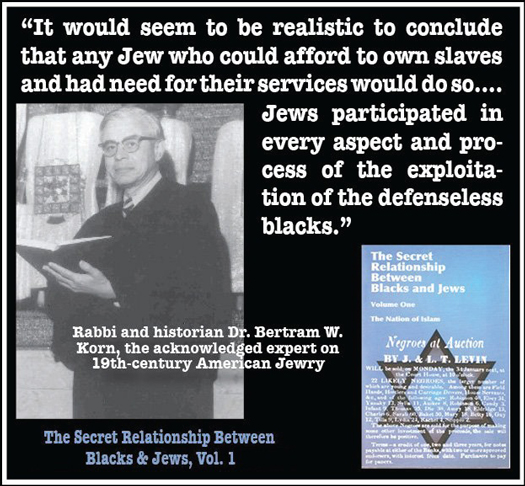 So, they have offered criticisms of Minister Farrakhan that are factless and void of truth. Their criticism of Minister Farrakhan adheres to no standards of truth or scholarship, only popularity. Minister Farrakhan's critics frequently appear from outside the ranks of professors, academicians, scholars and researchers. And the only reason that they merit a response is because of the enormous audience that they command. Popular culture's mammoth influence in the modern era trumps the influence of religion, education, family and government combined. Minister Farrakhan in his extremely important book, A Torchlight for America documented more than 20 years ago, the hidden campaign to "dumb down the American people." The fact that uninformed, non-scholar celebrities are allowed to pose as experts on subjects as important as the history of slavery in America is proof that the American public is being skillfully dumbed down.
Scholars are people who literally have to prove what they say and prove what they believe. They function as safeguards to the presence of truth within a society. In religion they fit within a hierarchy of divine knowledge that places Allah (God) at the top, followed by the angels, who are followed by the prophets and messengers, who are followed by the scholars, then the preachers of religion, and lastly the religious "lay-person" or believer.
Prophet Muhammad (peace be upon him) said that "one learned man or woman is harder on the devil than 1,000 ignorant worshippers." Meaghan McCain, Joy Behar and Angela Rye are not scholars and should not be taken seriously when they talk about fields of study that require a scholar's informed perspective. Minister Farrakhan is a Messenger of Allah (God), which means he has divine knowledge that Allah (God) reveals to him, however, the Minister uses the knowledge and research of scholars to bear witness to what Allah (God) has revealed to him.
Let's consider one of hundreds of scholars from the Jewish community that serve as a source and witness bearer to the controversial aspect of Minister Farrakhan's message wherein he identifies certain Jewish persons as playing a significant role in the destruction of Black life in America (i.e. the Black Holocaust).
According to Professor Marc Lee Raphael in his June 1980 eulogy for Rabbi Korn written in the journal of American Jewish History:
"Bertram Wallace Korn was a rarity; a rabbi who served the largest Reform congregation in the state of Pennsylvania for thirty years and a native-born historian who had no rivals as the most prolific and celebrated interpreter of ante-bellum and Civil War period of American Jewish life. Ordained at the Hebrew Union College in 1943 … From 1946-1948 he studied with Jacob R. Marcus, and the Hebrew Union College awarded him the Doctor of Hebrew Letters degree in 1948 for his dissertation on 'American Jewry and the Civil War.' Following one year as an assistant professor at the Hebrew Union College, Korn chose the rabbinate as a career, and accepted the pulpit at Kenesseth Israel in Elkins Park where he remained until his death in 1979. Rabbi Korn was honored during his lifetime in a variety of ways: he received honorary degrees from Temple University, Delaware Valley College, Hebrew Union College and Dropsie University; he was promoted to Rear Admiral, Chaplain Corps, United States Naval Reserve—the first Jewish chaplain to attain two-star rank in any military service—and was awarded the United States Navy Legion of Merit when he retired from active service in 1978; and he served as president of the Association of Jewish Chaplains of the Armed Forces of the United States, the Alumni Association of the Hebrew Union College, the American Jewish Historical Society, and the Chamber Symphony of Philadelphia."
As his great accomplishments convey, Rabbi Korn was a man distinguished and well respected by his religion; he was a decorated U.S. military serviceman; and he was a scholar whom enjoyed the admiration of his peers. He certainly would not be considered an anti-Semite. But because Minister Farrakhan cites his stellar scholarship, the Minister is branded an anti-Semite.
In 1974 Rabbi Korn spoke at a Black college in Nashville, Tennessee. Consider a sample of some of Rabbi Korn's research-based scholarly statements excerpted from his Fisk University presentation:
"In this work in which I've been engaged for twenty-five years or more, I've had a lot of objections tossed at me on the part of Jews, scholars, and lay people, including my wife, ah, who think that it's best to sweep things under the rug.That, ah, the suggestion that any Jews owned any slaves or had anything to do with the slave trade is, ah, putting a gun in the hands of the enemy. This kind of attitude towards academic work is to me, to say the least, regrettable. And I think that if we achieve anything in our meetings this week, we'll at least begin to come to an understanding of what the realities are. Jews are no enemies to misconceptions about themselves and Jews are not immune to self-righteousness."
"…the outstanding Jew of Newport, Rhode Island, Aaron Lopez, perhaps the most outstanding colonial Jew of all the colonies, had at least one slave ship on the seas each year during the 1760s, more in the 1770s, as many as 3 a year. He used Negro workers in weaving and [unintelligible] grinding, which were 2 of the many commercial enterprises in which he was involved and had 6 domestic slaves in his home."
"Altogether you can say that Jewish individuals in the colonial period revealed no record of ideological opposition to slavery. Even a synagogue, Shearith Israel of New York City, in 1729, hired two slaves from a widow and used other black people in the building of a new synagogue building."
"It has to be stated without any attempt to cover up that leaders of Jewish communities participated in the slave system without apology."
These statements by Rabbi Korn to a Black college audience are very significant. They are especially significant when we consider how Rabbi Korn is not deemed an anti-Semite who should not be allowed to speak to Black students and faculty. But Heidi Beirich said of Minister Farrakhan's college speaking engagements that "anytime Farrakhan is on the road speaking to groups, we are afraid those ideas are going to spread." And it is the Southern Poverty Law Center that is always dogging the trail of Minister Farrakhan to prevent colleges from allowing him to speak to the study body.
This article is specifically purposed to expose Minister Farrakhan's critics as woeful and lacking in scholastic competence. And it is also to unsheathe the veritable tip of the iceberg of strong, unimpeachable and mainly Jewish sources that lay as a base and foundation for the Minister's message regarding the Jewish involvement in the Black Holocaust. I close this article with another series of jaw-dropping quotes from Rabbi Korn:
Excerpted from Jews and Negro Slavery in the Old South 1789-1965 by Rabbi Bertram Korn:
"Slave-dealing obviously did not disqualify Jews from receiving the friendship and esteem of their co-religionists any more than it disqualified Christians; engaging in business transactions in Negro flesh was not regarded as incompatible with being a good Jew."
"It would seem to be realistic to conclude that any Jew who could afford to own slaves and had need for their services would do so. ... Jews participated in every aspect and process of the exploitation of the defenseless Blacks."
"Even in the days of the secession crisis, and the subsequent prolongated war and eventual defeat, many Southern Jews believed slavery to be indispensable to their happiness and security."
"Jews in the towns and cities appear to have been quite content to abide by the excessively cruel punishments meted out to blacks who were caught by the law. … In 1798, Polly, a mulatto slave, was tried for taking a loaf of white sugar worth two dollars from Benjamin Solomon's home, and was sentenced to five lashes on her bare back and ordered to be branded on her left hand. ...Benjamin Wolfe's store was broken into in 1797, and $500 in merchandise was stolen. Three slaves were tried for the crime, but only one was convicted. He was sentenced to be hung. Jews were among the many Southern citizens who appealed for the apprehension and return of runaway slaves."
[Demetric Muhammad is a Nation of Islam student minister based in Memphis, author and member of the NOI Research Group. Follow @brotherdemetric on Twitter. Read more from him at www.researchminister.com.]